Simplify Time & Labor Management
Your workforce is one of your greatest expenses, whether you're a small or large employer... and automated time and attendance is perhaps the best tool to minimize the cost of labor (while increasing productivity). In addition to streamlining compliance, it's also the leading tool to simplify the process of collecting, calculating, and submitting hours for payroll, including time worked, accrued time and paid time off.
Benefits include:
Minimize compliance risk
Control overtime wages
Prevent "buddy punching" and other forms of time theft
Reduce pay for late arrivals and early departures
Minimize extended breaks and lunches
Cut hours of administration
Reduce human error in payroll processing
Mobile Employee Self Service (ESS)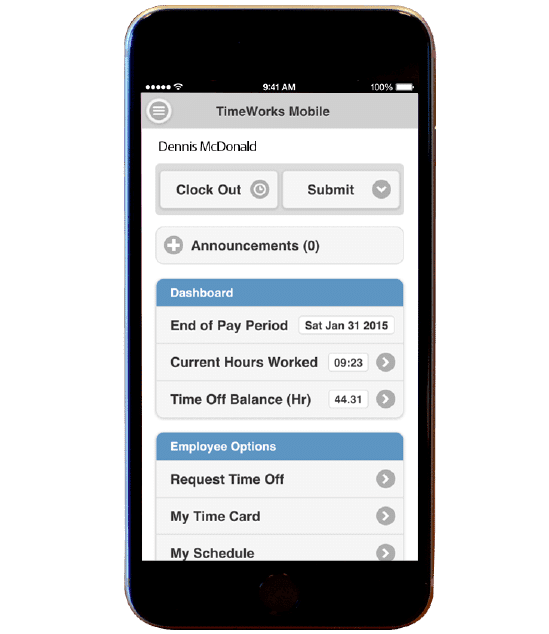 Reduce Compliance Risk
Wage and hour compliance is a complex and rapidly growing challenge for employers, with requirements seemingly expanding each calendar year. With the standard provisions of FLSA, FMLA, and ACA to adhere to, along with federal, state and even local legislation in some cases, implementing a time and labor solution is one of the most effective ways to reduce your risk of non-compliance and penalties.
Not only will you more conveniently enforce wage and hour policies, but you'll also possess auditable reporting tools to minimize the risk of an investigation. Whether it's rest and meal periods, breaks, leave management, overtime compliance, or one of many other common wage and hour violations, a time clock solution will reduce risk and simplify reporting requirements.
Employee Scheduling
Building and maintaining employee schedules can be tremendously demanding on managers, but is also an important aspect of running your business efficiently and profitably. With advanced employee scheduling, managers can save time, increase productivity and reduce costs associated with inefficient scheduling. Now managers can fill employee shifts in seconds, identify overtime costs and overstaffing problems immediately, and free up time for more important tasks:
Copy and paste templates
Drag-and-drop scheduling
Easily swap shifts between staff
Alerts for overstaffing and overtime
Text and email collaboration